…or why aren't I making any sales through Etsy?
You opened a shop. You've put up listings, and you've even got a Facebook page. You've religiously posted your wares on your page, and now you wait while you schmooze on Facebook, and you wait, and you wait some more. If you have an iPhone or Android phone, you've probably downloaded the app. You've heard about the wonderful "cha-ching" but you have yet to hear it. It's been a bit, like a couple of months, and you're getting discouraged.
Don't fear, my friend. There are a few things you need to know to calm your anxiety and keep you from feeling downtrodden.
You are not alone…
There are millions if not billions of people doing the same thing, selling on Etsy. You're in a competitive marketplace. You need an edge, a leg up on the competition.
Are you set-up right?
This may seem like an elementary question, but leaving small details out can make a difference.
People who are shopping for handmade goods want to know who they are buying from. This doesn't mean you have to put your whole life's story into it. Just a brief introduction and include what you like to do.
This is your shop name and title, banner and description of your shop. Let's take a closer look:
Here is my announcement. You have to make this part friendly, keyword rich, and welcoming. If you have a blog, you can put it here, like I did, but they will have to copy and paste the link to get it to work.
I listed what I made in the first sentence, what I make it from in the second, and what occasions the pieces can be worn. I even include some styles in the description.
Even though there is a shipping section, I include a little information on that and any discounts that I offer.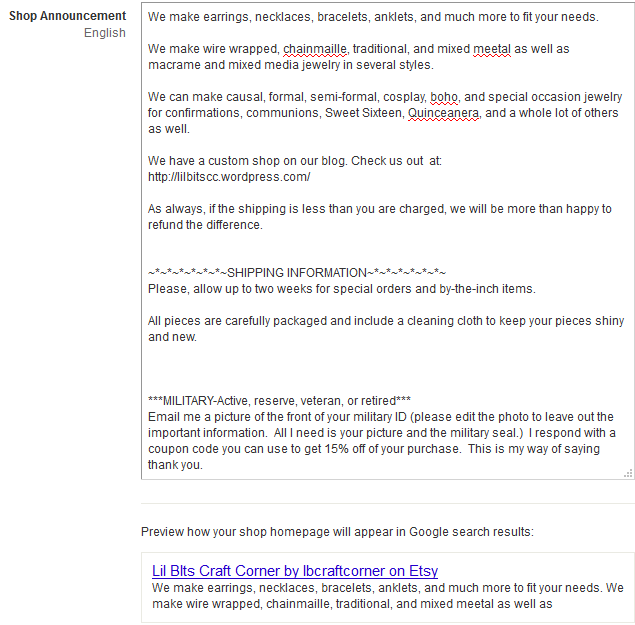 Google search results. this is what your shop link looks like on a Google search engine. It's important to fit the important keywords in the first two sentences so they will show up in the description on Google.
This is also part of the appearance. Be sure to make this personal. As I did, you can include your blog, and other contact information as well.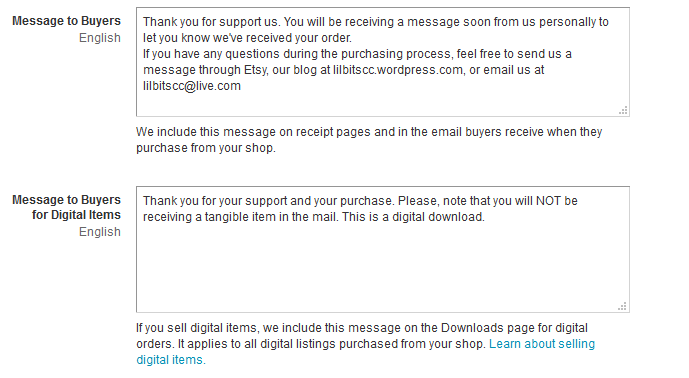 Your Pictures…
They have to look professional. You can do this with a smartphone camera, but it's easier with a camera. Here are a few tips:
The settings on your phone's camera or digital cam should be as close as possible to true color. Your phone needs to have a feature that let's you get close-up shots.
Your backgrounds must be consistent. You can use props, but the overall background needs to be the same.
The lighting should compliment what you are taking a picture of. This means as close to true color as possible and devoid of shadows.
When naming your picture to save as a file, it should be a brief description of what the item is. (rosequartzrosary) This will make it visible in search engines.
It needs to be optimized, meaning condensed so it is compact enough to upload and so the page loads quickly. People are not going to wait more than a couple of seconds for pictures to load.
You can include a watermark on the pictures. This is so anyone trying to steal your pictures will find it impossible to do it without your name.
Your Item Title…

This is one of the most important pieces of your listing.
Use as many characters as you can. You have 140 to play with.
Use keyword search terms. We all want to be creative with our titles, but your potential customers aren't searching for artsy names. Put yourself in their shoes when making the titles.
You can use Google Keyword Planner or even the Etsy search bar to help you find the right keywords for the title.


Your item description…
It needs to be rich in keywords and searchable phrases. If you want to know how to do this without it sounding like a repetitive ad, answer the following questions when making the description:
What is it? Pictures may tell a story, but you have to describe your item.
Who is it for? Is this a gift for mom, sister, dad, brother? Making gift suggestions are the best way to get someone's attention, and also are more often searched for than the item itself.
Why would they want it? Do they love butterflies? Are they fishing buffs? Would it make a good Mother's/Father's Day gift? This is the important part.
What occasions/styles does it go with? Some people are looking for that niche piece of décor or jewelry to complete a style. Others are looking for something for a certain occasion or a perfect decoration for a holiday.
How did you come up with the idea? People want to know the story behind the piece. What was your inspiration?
What is is made of? You don't have to tell them how you made, but some people love to know what you used in terms of materials.
Your tags…
You have thirteen of them. Make them count. Don't forget tags with gift and occasion ideas, and always leave one for your shop name. Use colors in the tags to describe the item. Also include some materials used.
Materials…
No, Etsy is not asking you to give away your trade secrets. Some people do search by materials, and this is another way for you to be found. Fill as many tags as possible, all of them if you can.
The next post will be about your Etsy shop and social media.
Until then, God bless, and stay crafty!
Anissa