Your shop is up and running, and you want to get the word out there. Great! How do you do that? By being social. Where do you start? Well, most people start with Facebook, even though they keep changing their algorithm to make the little guy have pay to get our names out there. It's frustrating. I know, but it is doable.
Start with Etsy…
Yep. Join teams; make treasuries, and browse shops. Fave items and shops you find interesting. What does this do? It puts you on their radar. When they look at their dashboard, they see you've faved them, and then they go to see your shop and maybe fave you as well. Why is this important?
Do you see what I see? When you click on person's profile, it has a list of their favorite shops. They may only show three, but the "see more" link is there so others can see what other shops they have faved. This means there is a chance they will see your shop on someone else's profile and click to see what you have in your shop.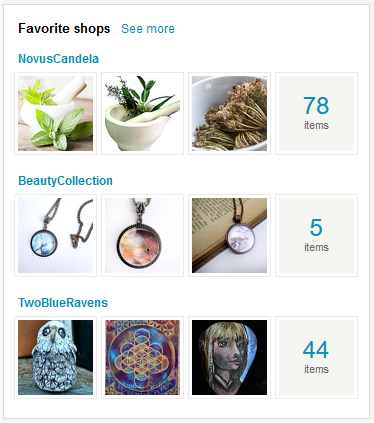 What good are teams for?
Etsy teams are designed to help you promote, improve your SEO, and make connections on Etsy to help you sell. A lot of Etsy teams have Fanpages, Twitter, and even Pinterest accounts to give you more exposure. It means you have to be an active member of the team, but when it increases your chances of making sales, can you afford NOT to be a part of a few?
Getting Your Brand Out There…
When embarking into the wide world of social media, you need to keep your brand and your target client base in mind. When you set up fan pages, twitter, pinterest, and other business pages up, do it in your businesses name. This will create more links where people can find you and that means more chances of your shop being visited, and even better, a sale.
Facebook, the big bully…
Yes, I called it that. It's been on the top of the list of social media venues for years. it used to be a friendly place for the little guy, but now, it seems we have to jump through more and more hoops just so people can see us.
Link your fan page to your personal account. You can do this by editing your about page and adding a job. Just type the name of your fan page, and it will show up as an option for you to choose.
Join groups that help promote. By this, I mean FB Etsy groups and groups that encourage interaction on fan pages, not just like ladders. It isn't about the quantity of likes, even though a lot of likes is good, but it's the quality of people liking and interacting on your page that makes it show up on suggested pages lists and so forth.
Don't just advertise. Have some fun and relevant information on your page. A funny meme, a blog post, and even an entertaining article will have them coming back for more. Post one or two of your items on your fan page. When they come back to visit, they will be getting to know your personality and be more likely to click on your Etsy link.
Use your photo album to your advantage. Upload pictures of your items; describe the item, and even put a link to your item so they can purchase it. This creates more opportunities for people to see your work and more chances for them to click through to your shop. The more links that are going into your shop, the better the search engines can find you.
Have a giveaway. It doesn't have to be anything big. Pick something they can win and announce the giveaway and when it will take place. Need help getting one started? Try https://www.rafflecopter.com/.
Don't forget to respond to comments and thank those who share. It is social media, and minding your manners goes a looooooong way. If they don't think you're active on your page, they may stop visiting or unlike it altogether.
Post snippets of your day. You're a person not a machine, and people like to be reminded of that.
Twitter, the younger brother…
Twitter has always been a powerhouse when posting and getting dialogue started. Just 140 characters, it doesn't seem like much, but it can speak volumes.
Put your shop link in your profile. New followers will have a place to click to take a look at what you are selling.
Tweet little blurbs about yourself during the day. This let's them know you are a living, breathing person.
Use hashtags effectively. No more than three.
Leave room for comments. If you use all 140 characters, some of it will get lost if someone retweets. People also like to add their own one-word or two-word blurb to it. Keeping it down to about 70 words is good.
Make use of lists. Categorizing who you're following let's you find them faster. You also add people to lists without even following them. Following other crafters in your field can keep you up to date on the latest trends.
Thank new followers, retweeters, and don't forget to respond to replies. Again, this is social media. You don't have to follow everyone who follows you, but acknowledging the fact they chose to follow you will make you more memorable. Don't forget to check your Direct Message box, too.
Pinterest, that one person in the family that knows everything…
This social media venue is wonderful if you DIY. It's also a great place to display your crafts in an organized manner. They are also beta testing http://www.pin4etsy.com/. So, keep an eye out for that.
Make separate boards for each of the sections in your shop. This will not only organize your pins into boards, but it will also make it easier for people to find other items in your Etsy shop when they visit.
Use no more than three hashtags. Anymore clutters up your description setting.
DO NOT USE URL SHORTENERS. Pinterest will mark the shortened links as SPAM and not let potential customers through to your shop.
Like, repin, and comment on other pins. Also, don't forget to thank people for commenting on your pins. This lets them know your are active on the boards.
Instagram, that one person that has to have a selfie everywhere.
This is the newest venue for anyone wishing to sell crafts or anything else. It is a smartphone only app for now.
Show them your W.I.P. Some people love to see the creative process in action. You don't have to explain what is happening in the picture. Just show them the progress.
Post funny memes and quick snippets of your day. This gives it a more personal touch, and they know they're dealing with a person.
Hashtags… You can use more than three, but it isn't recommended that you use more than about six.
Look for other people on Instagram. Remember, mingle, comment, and follow others so they will be curious and return the favor.
Again, be courteous and thank people for interacting on your posts.
Flash sales. Have flash sales on Instagram to get more followers and attract more people to your shop.
Don't forget to put your shop link in your profile. Instagram lets you put URLs in the picture descriptions, but you can't click on them. If you tell them your shop link is on your profile, they will be more inclined to look there and click on it.
Google+, the New Kid on the Block…
Though Google has had this working for a while, not many people know how powerful it can be.
Your videos automatically have a place. Yes, because Google is partnered with Youtube, every video you make automatically has a tab on your business page.
Your hashtags actually work here. Unlike Facebook whose hashtags are rather unreliable, Google+ allows you to not only use hashtags, but you can find what your are looking for by searching for the hashtags. Using more than three to four clutters up the body of your post. So, use them wisely.
You can hold webinars! Yes, you can hold online classes, webinars, and even collaborate with other crafters without having to message them and wait for a reply.
It's easier to target an audience. Because Google+ has circles you can add people to, you can post to just specific circles to target certain audiences. Neat, huh?
Youtube, the adventurous one…
Everyone seems to be doing something on Youtube. Just because you craft doesn't mean you can't post a video or two.
Show them your workspace. Everyone loves a "behind the scenes" look at someone in action.
Make product videos. You can show off a new line, style, or piece of furniture. Making a product video is like a commercial.
DIY, people love DIY videos. Show them how to maintain their purchase, how to clean their jewelry pieces, and even how to properly care for their newly purchased piece of art.
Tutorials. You don't have show them everything, but teaching them some of the basics of how you do what you do will give them a better appreciation for all the work that goes into what you do.
Tag your videos appropriately. This way people can find them if they are not on Google+.
Subscribe to other channels according to your craft or interests. Upvote and comment on other videos to draw attention to your channel and gain followers.
Make a tab on your Facebook fan page; www.woobox.com let's you make tabs to link a lot of your social media to your fan page. Take advantage of it.
The next post will be about do's and don'ts on Etsy.
Until then, God bless and stay crafty!
Anissa