So, you've got your etsy shop. You've got your social media, and now you're trying to keep up with all of it. It's enough to make even the most stalwart of people go, well, cross-eyed. After all, all you wanted to do is make things and sell them, and now you're your own marketing consultant, producer of videos, and poster of social media on top of all the other things you were doing.
Breathe…
There are tools, my friend, to make your life a breeze.
Hootsuite.com, the multi-tasker…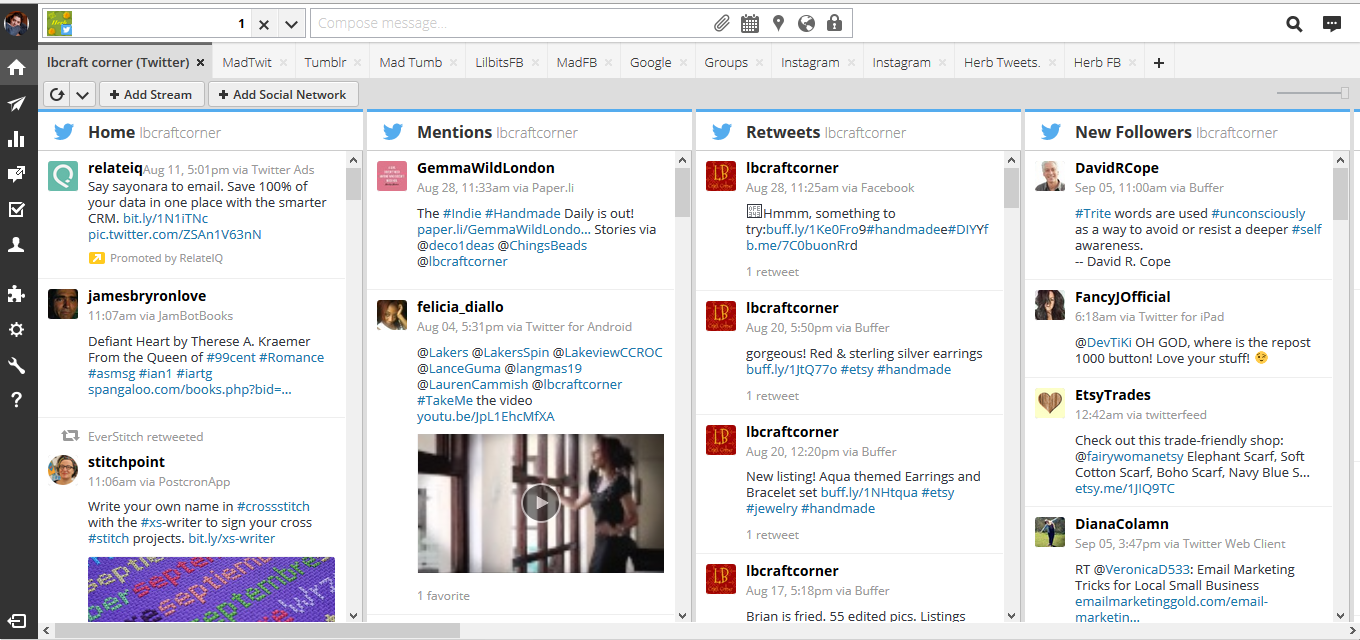 I have been using this platform for years. If you have only one business, unlike me, and up to five different social media accounts, you can use this wonderful tool to keep up with them all. The pro account is only $8.99/mo. The free one let's you link up to five. Here are some pros and cons:
Pros:
You can keep up with all of your feeds. This means you don't have to keep multiple tabs open. It's all in one place.
It is fully integrated with Instagram. This means you can post to Instagram from Hootsuite! Neat, huh? You need the Hootsuite app for your phone to do this, though.
You can schedule posts. You can choose the dates and times they go out.
You can interact with your feeds on Hootsuite. This means you can like, comment, and share posts from this platform.
It has browser integration. You can post your latest find to your accounts with a press of a button.
There is an app for the smartphone. You can keep up with everything on one app. It's not available on Windows phone.
Cons:
Posts scheduled on Hootsuite to Facebook fan pages don't get as many views. I have no clue why this is but it's true.
The app doesn't have many feeds. It only has Facebook and Twitter. When you retweet or share on the app, it doesn't share any pictures.
It doesn't share pictures to groups very well. It has the bad habit of posting the picture bigger than it should be.
Buffer, the publishing King…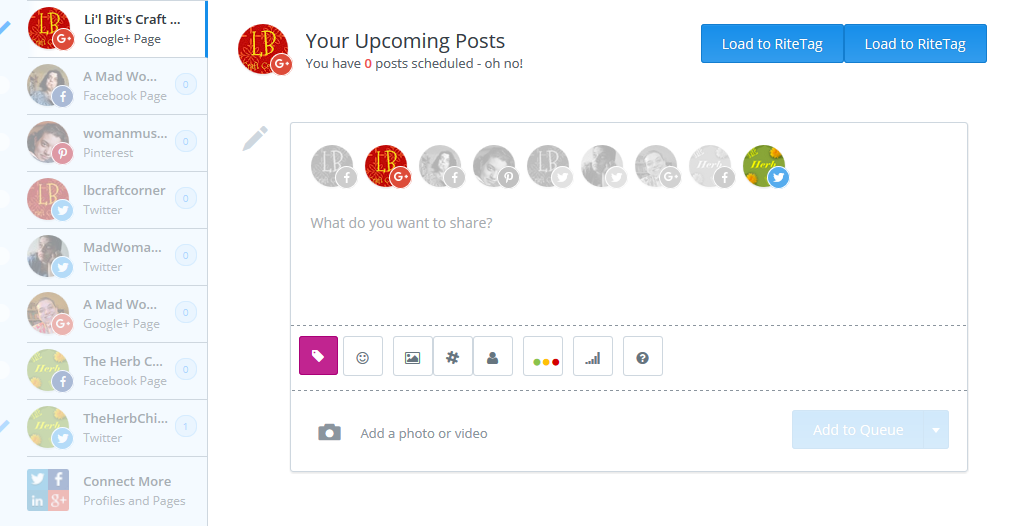 Can I say how much I love Buffer? It makes it sooooo easy to manage posts. I will have a video tutorial on this later. The pro plan is $10.00/mo. The free one let's you only link three. Here are the pros and cons:
Pros:
All your accounts are clearly displayed on the left. This makes it easy to find the one you want.
You can set custom posting times for each account. Unlike Hootsuite, which requires you trust in their posting times or use a bulk posting template, Buffer lets you set up posting times for each of your accounts. This means you can set four times for Facebook, a couple for Google+, and as many as you want for Twitter.
It has browser integration. Like Hootsuite, you can post with the touch of a button.
It has an app like Hootsuite, but I can't comment on it because I have a Windows phone and they don't have it for Windows.
Cons
You can't interact with feeds. Buffer is for posting only. It's a "Set it, and forget it". Kind of thing.
You need to make sure the right accounts are chosen. It has defaults, and if you're not careful, you might post to the wrong account.
No Instagram integration. Nope, you can't post to Instagram here. It's not linked up to Tumblr either. The fourth social media outlet they have is LinkedIn.
Viralwoot, the Pinterest partner…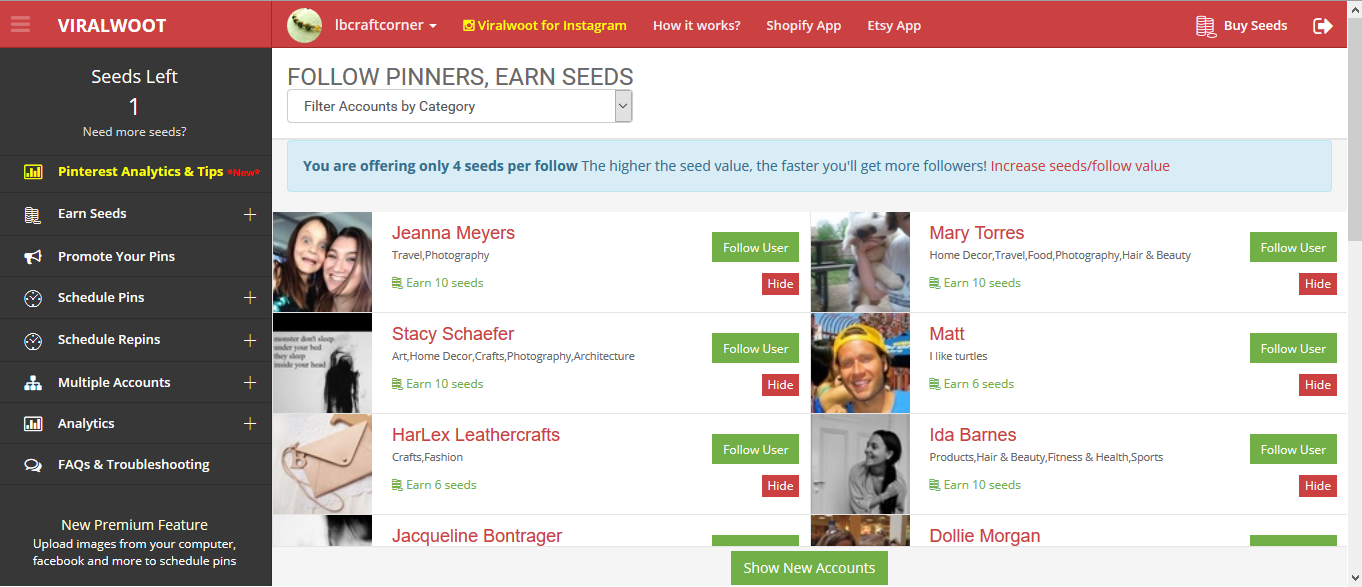 Not many people in my circles know about this one. So, I am going to introduce it here, and also have a video tutorial later. This is a platform that lets you interact with other pinners, pin, repin, and schedule pins. It has different pricing tiers, if you want to get serious with it, but I have never really needed anything more than the free service.
Pros
It's free. You get seeds by following other pinners and interacting.
You can schedule pins. This means you can stagger your pins throughout the day so more people can see you.
It has a pin scheduler button. Need to pin your newest listing? No, problem! Just drag and drop their "Pin scheduler" button to your toolbar, and click on it with your listing page on it, write a couple of words, choose your board, schedule it, and forget it.
Cons
Scheduling can be a pain. You have to make sure you're not scheduling it into the past. I made that mistake. Not only did it not post, but it told me it posted it back in 1976. Yeah, it's that bad. Make sure you set the date and time right. lol
Instawoot, Instagram's wingman.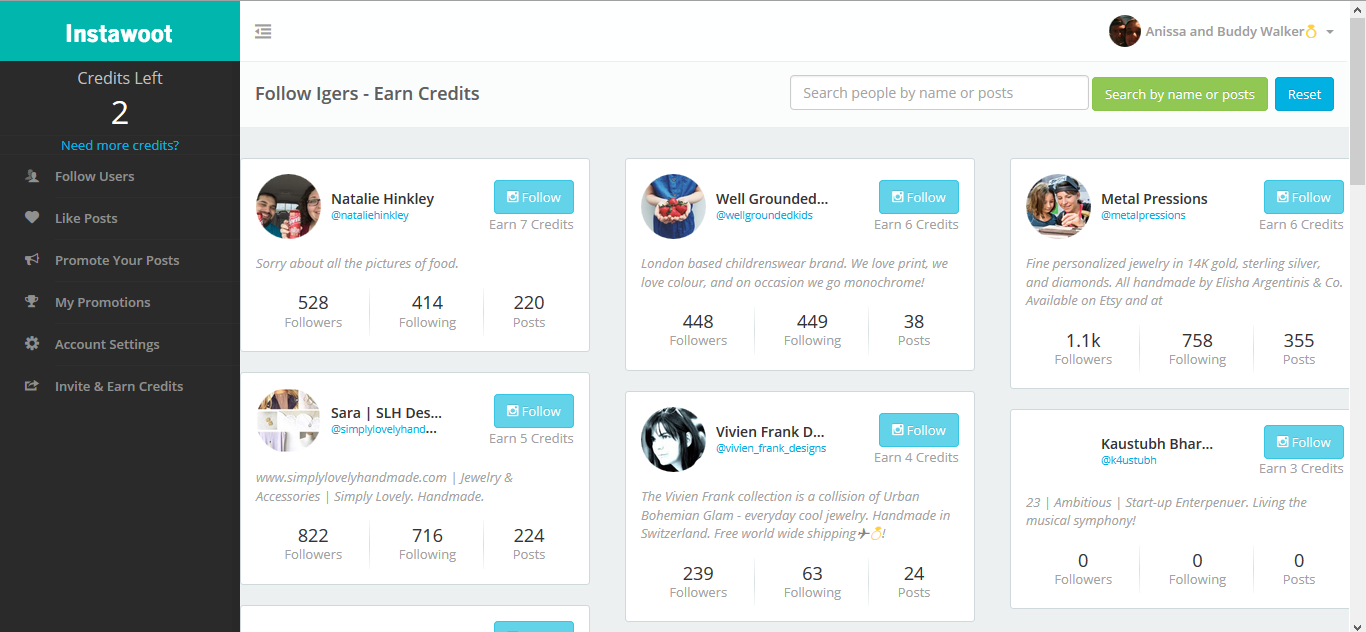 This works like Viralwoot. The only thing is you can't schedule posts or anything like that. You can't even upload to Instagram. It does let you promote posts though. It's free.
Shoptender.com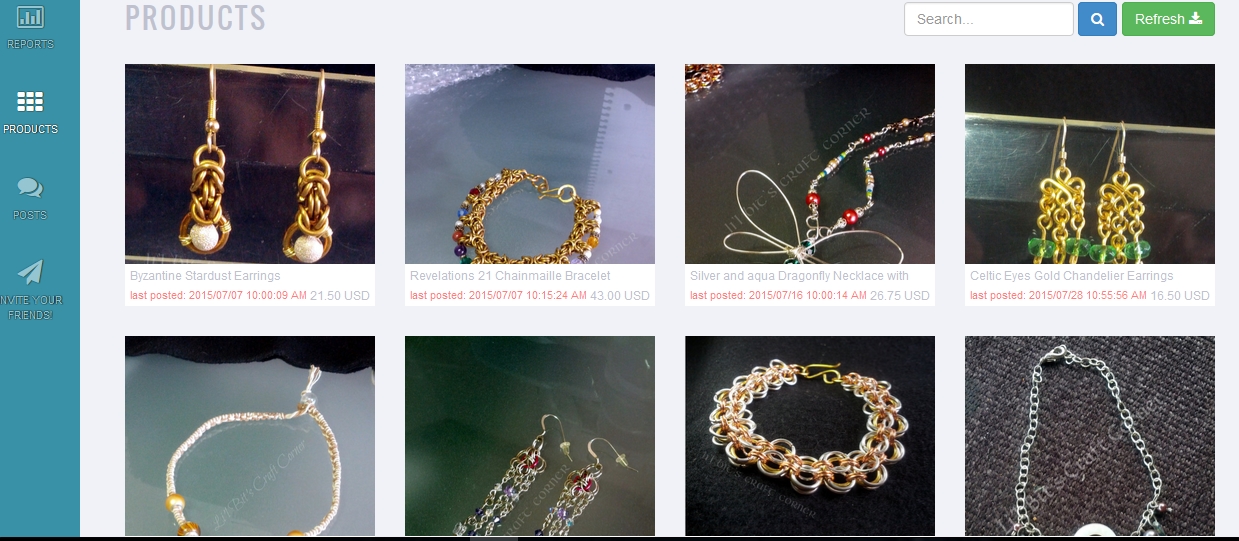 I love this platform. It integrates with all your shops and let's you schedule when to post them. It's free!
Pros
It integrates with Storenvy and Etsy. You can link all your shops in one platform.
It keeps track of when you posted. It places a note on the item letting you know the last time you shared it through their service.
It has a buy button that links to your store. I mean. How cool is that? They click on the post and go directly to your shop!
It's very user friendly. Pick your item, follow the breadcrumb trail to enter different messages for each social media venue, schedule, and you're done!
They are integrated with Tumblr. Yup, you can schedule it to post to your Tumblr!
Cons
Only posts to your personal Google+. They are working on getting this changed.
No Instagram integration. They may be working on that. I am keeping an eye on it.
Deleting a duplicate scheduled post is a bit of a pain. It's not hard to figure out, but it is a bit annoying.
Around.io
I wish I could tell you more about this one, but it's a pay site $10.00/mo after the free trial, and my trial has expired. It does let you schedule posts and items though. it makes suggestions on non-item posts and picks the times to post them.
This is all for this post. If you would like to see more of these types of posts to help you market your etsy site, please post suggestions in the comments, and I will be more than happy to make them.
Until then, God bless, and stay crafty!
Anissa