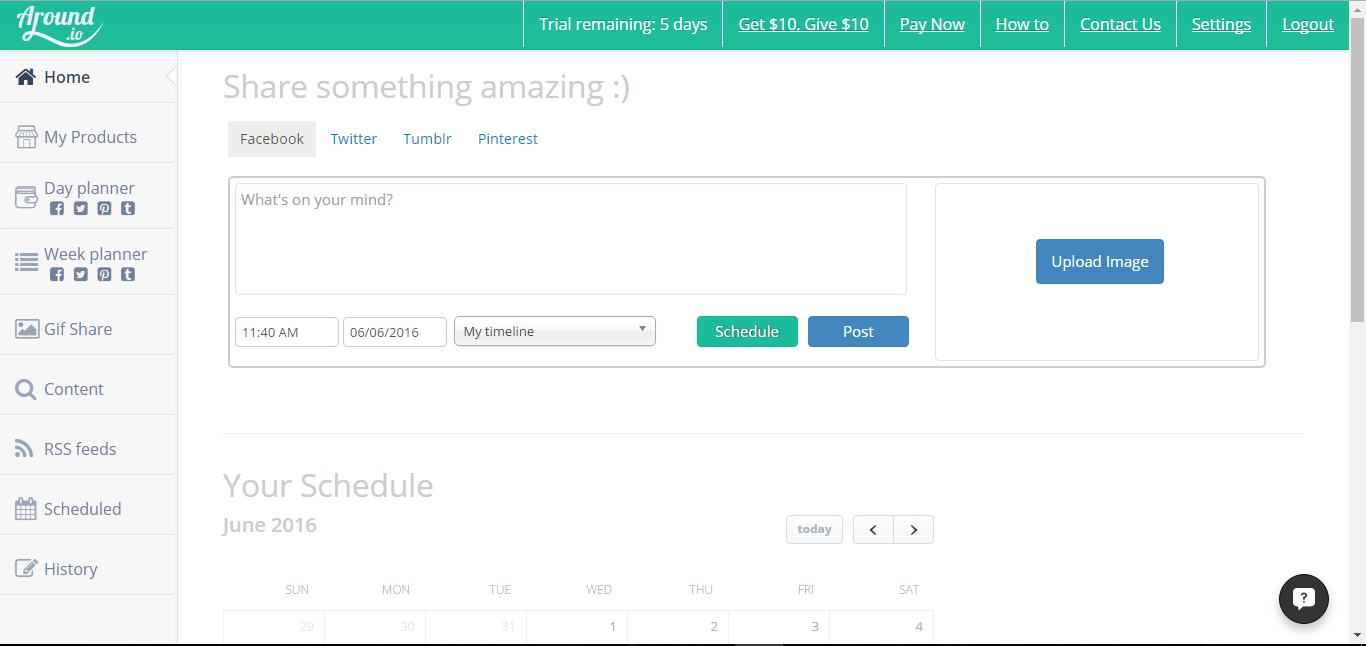 Blow the trumpets and sound the horns! The review for the dashboard Around.io is here! That's right, my followers, I finally scheduled it in, and now I am going to give you a no-holds-barred review. To the left is one of the main pages for this platform of platforms to help you market your Etsy or Storenvy items.
I found this when I was on Storenvy and fell in love with the ease of it. How easy? Read on, my friends.
Pros:
It's easy to use.

Most of the commands are two-click and you're done. All you would need to do is double check.
You can post now or for tomorrow.  You can schedule posts for an entire day one click at a time.
It helps you with content, too.

It has gifs and other content you can choose from to keep your postings from being stale or looking like a constant stream of advertisements.

In-house immediate help.

  There is no waiting twenty-four to forty-eight hours when you have a problem or question. The majority of the time, when you're are using, there is someone one you can chat with to get answers within moments.
Cons:
There is no free account.

They give you a free trial so you can use their tools and get a feel for the dashboard, but there is no free account. There are two plans that will be discussed in the video below.

There are separate buttons for other platforms.

I will show in the tutorial below. You can access more than the four platforms above, but you have to do it another way, through the My products tab.

Planning for the day is actually planning for the next day.

The Day planner tab plans for the next day, not the day you are on. This isn't a big con, in my opinion, but it is a bit of a con since you can't change the date to the morning you are planning your posts. You can however plan you posts in the Home tab.
Final words:
Words cannot express how much time this dashboard saves me in content finding, marketing and scheduling. It is worth the $9.99 I pay monthly for the service. Natwar, the admin, is very friendly and will work with you if you run into a tight spot financially. He will also send out emails reminding you of your service, if you haven't used it in a while. The two-click posting/scheduling coupled with the customer service and support, not to mention you can grow your followers using this, makes the basic monthly fee so worth it. Unlike Buffer, it fully integrates with my Etsy account, meaning I don't have to open my Etsy shop to share my products, and I can share them to more platforms than are available on Buffer. This is a must have for any up-and-coming crafter who wants to market their products without spending hours doing it.
Want to know how easy it is to use? Watch this video and find out!
Until next time, stay crafty!
Li'l Bit